I have a pumpkin filled with awesome today, so pop the top and dig in: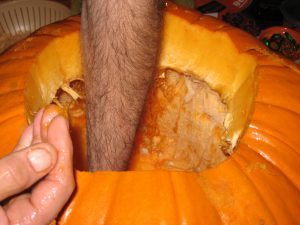 The October contest is a Halloween costume contest!  It will run all month, you can submit up to two different photos, you can vote for the best costume, and it's free to enter.  The first prize is a $25 Amazon gift card, and the second prize is a horror ebook gift pack.  I want to see your inner weird.
To coincide with the launch of the contest, I have a short guest post on the contest site about how to create quick and effective costumes:  "Get Scared"
Last but not least, I was surprised by a new review popping up on HorrorNews.net.  It's another goodun that has made this a truly great October 2nd.
And don't forget, in a mere 11 days I'll be making my first ever live appearance to sign books at the Wilkes-Barre Barnes and Nobel, along with Ron Breznay, Lorne Dixon, Kevin Lucia, Mark Thornton, Eileen Watkins and more!
Happy October everyone!