Below are Anthony's most recent releases, including links to purchase where available. Further down you will also find a full bibliography for all of his short stories in related magazines, anthologies, and online outlets.
Tommy and the Order of Cosmic Champions
Sometimes our greatest moments of enlightenment come from our worst mistakes.
When life supplies eleven-year-old Tommy Grant with some unfavorable circumstances intruding on his otherwise tranquil life in rural 1980's Ohio, he retreats into the spell-binding Order of Cosmic Champions. When he discovers that the largely successful animated program and toy line is holding a nationwide "Create-A-Character" contest where applicants submit their action figure designs, Tommy knows he has to enter as surely as he knows his own name.
But when Tommy's character design fails to win the contest, he finds his world crumbling from all sides. And there is only one way he knows to fix it.
What follows is a whirlwind coming-of-age adventure of righting wrongs, overcoming perilous obstacles, confronting our inner demons, and challenging the limits of reality. In this waxing nostalgic and imaginative fantasy, readers will discover what excitement lies waiting when you take risks and conquer your fears. Only one question remains: In the final hour when you heed the call, the courage to give your all, will you stand or fall?
"[Tommy] learns that sometimes you have to take chances... you can't let fear dominate you. And I think that's a great message, because that is the creed that I live by. I give Tommy and the Order of Cosmic Champions two thumbs up. I think it's a fantastical, exciting, and interesting read."
"These guys have done a great job putting this book together... it's really a fantastic story. It's a really wonderful adventure story, with great life lessons and themes."
"It was so, so sweet. It was such a heartwarming story and very relatable to people of all ages. I just love how Tommy comes to so many realizations and grows and learns through his own imagination... or is it?"
BREATHE DEEP OF THE NIGHT. Greetings from Moon Hill is a collection of darkly bizarre horror stories culled from the deranged mind of Anthony J. Rapino, author of Soundtrack to the End of the World. Somewhere in Northeastern Pennsylvania, nestled between the forests and foothills of the Poconos, you'll find the forgotten town of Moon Hill. It's a surreal place of arcane magic and natural wonder, where a hint of autumn lingers in the air, the leaves are always turning, and the shadows grow long no matter the time of day. You might say Moon Hill is special, an eerie pocket of Americana frozen in time, filled with eccentric characters and deathly secrets that transcend reality. And like most small towns, it also has a dark side.

This book is a roadmap to the lost town's terrifying mysteries. Wander through the brush of Moon Hill State Forest and explore its otherworldly flora in "From Your Body They Rise." Bear witness to the interdimensional war raging above Old Road in the novella, "Reality Engineers." Conjure autumnal spirits with Handy Weber in "Halloween on the Hill," sample the peculiar glowing ale brewed by Slow Ewan in "Struck by Golden Lightning," and pay your respects with blood at the old Whistler place in "Just Once More, Little Sister." As you explore Moon Hill's darkened corners, you will discover a town built upon a foundation of nightmares, proving once again that Anthony J. Rapino is not only a master storyteller, but also a dark architect of the imagination. Welcome to Moon Hill. Your definition of weird is about to change.
"Anthony Rapino's work is uniquely infused with horror and a type of childlike innocence that makes the darkness that much darker. Greetings from Moon Hill invites you to a place that is both tragic and extraordinary. Once you enter, you'll never be allowed to leave."
"Anthony Rapino's collection Greetings from Moon Hill is his best work so far. Don't miss these fascinating and scary stories from a master of the craft."
"This is essential reading for horror fans everywhere, especially if you love Halloween and the Autumn season. But even though Halloween is over, don't wait until next year to read this: do it now! As I mentioned before, the book isn't solely Halloween themed so it can really be read any time of the year. HIGHLY RECOMMENDED."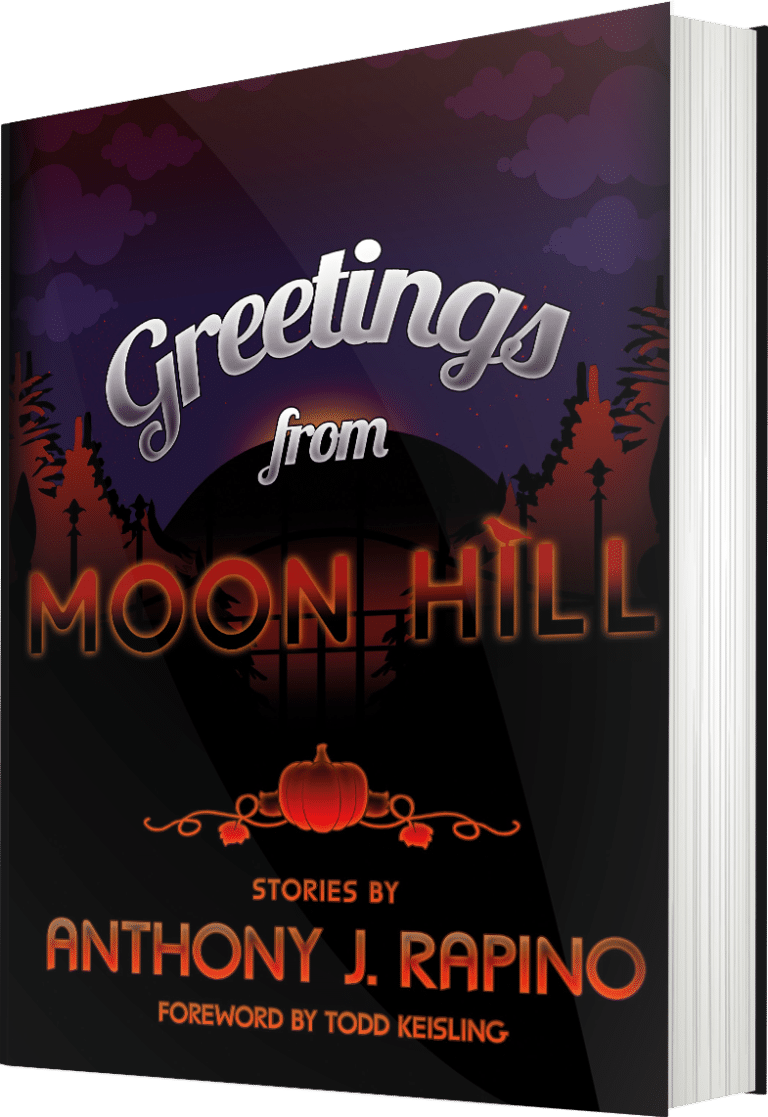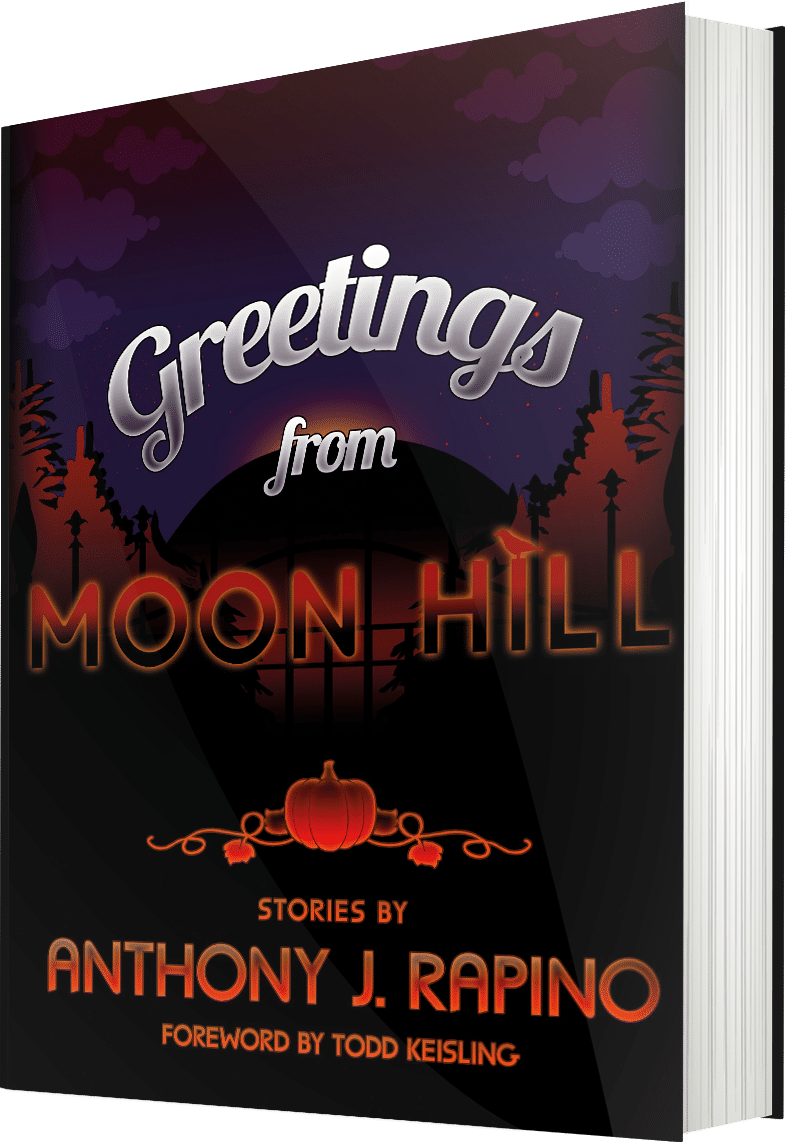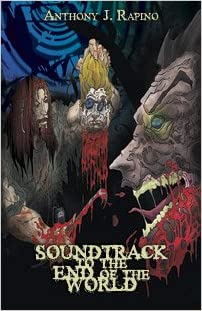 Soundtrack to the End of the World: Audiobook
A suicidal nudist strolls into traffic. An eccentric Buddhist claims he can occupy other people's bodies. All the while, whispers of a new form of entertainment blow through town. Prompted by these strange occurrences, Marty Raft, a not-so-gentle giant, investigates and discovers underground clubs peddling music that induces an out-of-body experience. Marty and a wannabe comedian, Corey, set out to prove these special frequencies are nothing more than a hoax, or at worst, a mass-drugging. Instead, they uncover a secret with world-ending possibilities. If you can hear the music, it's already too late.
"Unique, inventive, action-packed and a whole lot of fun, Rapino's novel kept me turning the pages (that's right -- I bought a dead tree copy) just to see what would happen next. And unlike most horror stories that leave you hanging, this one actually ends in a crowd-pleasing way that even your Grandma would appreciate. "
"In a nutshell, I really enjoyed this book and had a great time with it. It's a fun ride, and the soundtrack's not bad, either. If you enjoy zombie horror with a little comedy, or if you enjoy fiction that isn't afraid to try new things, I strongly recommend you check out this book. "
"I really enjoyed this book. I started reading this before bed as a way to relax and fall asleep, but I found myself staying up into the wee hours of the morning not able to stop reading. I thought it was a new and fresh take on zombies. I got emotionally invested in the characters. There was never a dull moment in this book for me, Very glad to have found this author and can't wait to read more from him."
Horror Novels/Novellas/Anthologies/Chapbooks
Tommy and the Order of Cosmic Champions. Greenleaf. Available in hardcover and eBook wherever fine books are sold. Will be published on 10/18/22.
One of Us: A Tribute to Frank Michaels Errington. Bloodshot Books. Available in paperback and eBook formats. Published 11/19/20.
Greetings from Moon Hill. Precipice Books. Available in eBook and paperback formats. Hardcover sold out. Published 10/11/16.
Soundtrack to the End of the World (Re-issue with new cover and foreword), Bloodshot Books. Published 9/13/20.  Paperback and eBook.
Soundtrack to the End of the World, Bad Moon Books. Published 4/1/12.  Debut Novel. eBook available via Crossroad Press. Paperback and hardcover sold out.
Soundtrack to the End of the World, Crossroad Press. Audio book. Published 12/1/19.
Exquisite Death, In Ear Entertainment.  Audio Book Anthology.  Published 8/13/2013.
Madhouse Anthology. Dark Regions Press (May 22, 2016). Contains my story, "Where Immortals Sing in Key."
"I've Got you Under my Skin."  Roms, Bombs & Zoms (A Three Little Words Anthology).  Print and eBook.  10/25/13
"Rot with Me." Robbed of Sleep: Stories to Stay up To (volume One). Troy Blackford,  (June 10, 2014). 
Reality Engineers, In Ear Entertainment.  Audio Book Novella. Published 10/28/2013. Out of Print.
Welcome to Moon Hill, Moon Hill Books.  Short Story Collection. Published 2/1/12. Out of Print.
Uprooted, Sand Chapbook Line.  Sold Out.
"Dandelion Dreams." Storyteller April/May/June 2005: 44. Volume 10, Issue 2.
"The Plumber." Devil's Work March 24, 2006: Volume 1, Issue 11. Web. No longer available.
"Red Death." Pocono Record October 28, 2007. No longer available.
"Retired." Magus Press October, 2007. Web.  [Reprinted in Uprooted]
"Just Once More, Little Sister" Nossa Morte February 2010.   Web.   [Reprinted in Uprooted]
"Smiles Beneath." Scalped Issue 4, Spring 2010. Web. No longer available.
"My Room." Dog Oil Press April 4, 2010. No longer available.
Hint Fiction: A Collection of Four Stories (of 25 words each).  The PR Issue #3.  April 3, 2011. No longer available.
"Camera Obscura." TQR Stories.  April 15th, 2011.
"Inside the Walls of East Lombard Street." Electric Spec.  Volume 6, Issue 2, May31st 2011.
"Fixing a Hole." A capella Zoo.  Issue 7, Fall 2011.  Print.      (Free web edition: page 74).