An Audio Book
Available now, a new audio book anthology from In Ear Entertainment.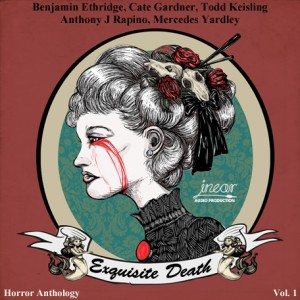 Zombies, freaks, vampires and… dogs? This anthology has everything a horror fan could ever want from a collection. Meet Bob, a plumber with some unusual methods of clog-unblocking; Ray, a teenage vampire who may depend on his friends a little too much and Chester, a family dog who just wants to be a good boy. Exquisite Death brings you seven stories from five amazing up and coming horror writers.
Length: 1 hour 25 minutes.
Author: Benjamin Ethridge, Cate Gardner, Todd Keisling, Anthony J Rapino, Mercedes Yardley.
Read by: Ian Baldwin and Georgie Leonard.
Sign up to my official newsletter (located on left side bar) and receive an exclusive coupon code!
Author biographies
Benjamin Kane Ethridge won the Bram Stoker Award for his novel Black & Orange (Bad Moon Books 2010).
Cate Gardner is a British horror and fantastical author with over a hundred short stories published.
Todd Keisling is a writer, occasional blogger, and author of the novel A Life Transparent.
Anthony J. Rapino has published his debut novel, Soundtrack to the End of the World, and also has a short story collection, Welcome to Moon Hill.
Mercedes Yardley likes to write stories, poems and essays. Sometimes they're funny, sometimes they aren't.