PREORDER NOW! Official release on October 18th 2022!

All orders will be shipped the week of October 18th, 2022.
One signed and personalized copy of the hardcover novel TOMMY AND THE ORDER OF COSMIC CHAMPIONS.
***Note: Using the "order notes" section, please indicate the name you would like me to use when personalizing your copy. If you do not indicate a name, the book will only be signed with no personalization.***   

Synopsis:
Sometimes our greatest moments of enlightenment come from our worst mistakes.
When life supplies eleven-year-old Tommy Grant with some unfavorable circumstances intruding on his otherwise tranquil life in rural 1980's Ohio, he retreats into the spell-binding Order of Cosmic Champions. When he discovers that the largely successful animated program and toy line is holding a nationwide "Create-A-Character" contest where applicants submit their action figure designs, Tommy knows he has to enter as surely as he knows his own name.
But when Tommy's character design fails to win the contest, he finds his world crumbling from all sides. And there is only one way he knows to fix it.
What follows is a whirlwind coming-of-age adventure of righting wrongs, overcoming perilous obstacles, confronting our inner demons, and challenging the limits of reality. In this waxing nostalgic and imaginative fantasy, readers will discover what excitement lies waiting when you take risks and conquer your fears. Only one question remains: In the final hour when you heed the call, the courage to give your all, will you stand or fall?
____________________________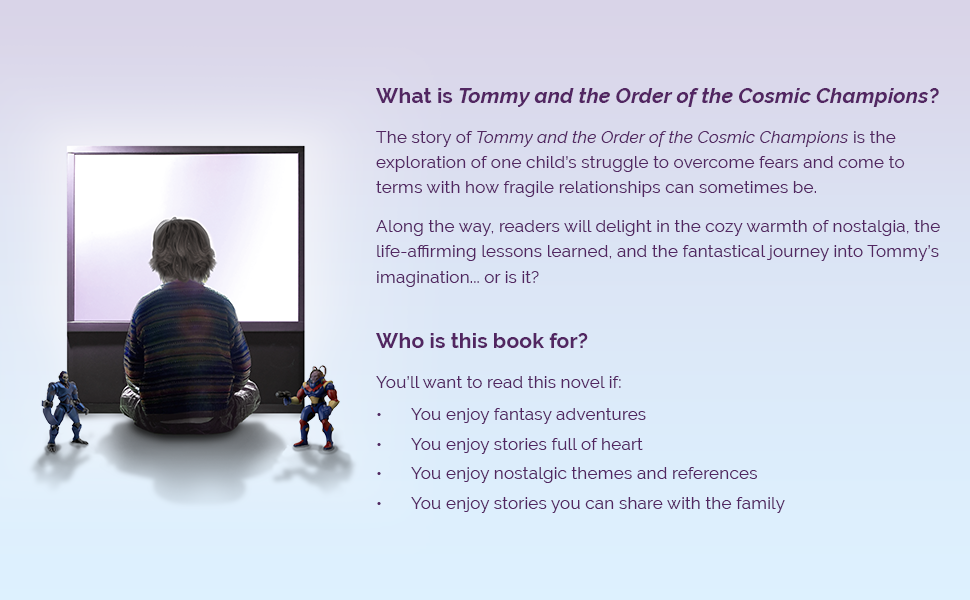 ————————————————
Reviews
"[Tommy] learns that sometimes you have to take chances . . . you can't let fear dominate you. And I think that's a great message, because that is the creed that I live by. I give 
Tommy and the Order of Cosmic Champions
 two thumbs up. I think it's a fantastical, exciting, and interesting read."
– Corey Feldman, American actor and singer best known for starring in 
The Goonies
, 
Gremlins
, and 
Stand By Me
.
"These guys have done a great job putting this book together . . . it's really a fantastic story. It's a really wonderful adventure story, with great life lessons and themes."
– Anthony Michael Hall, American actor best known for his movies with John Hughes, which include the teen classics 
Sixteen Candles
, 
The Breakfast Club
, and 
Weird Science
.
" . . . any fans of the '80s out there . . . any fans of 
[The] Goonies
 and 
The NeverEnding Story
 . . . I think you're really going to like this book."
– Joey Lawrence, American actor, musician, singer-songwriter, record producer, and game show host. He is best known for his role as Joey Russo in 
Blossom
 and starring in 
Gimme A Break!
"It was so, so sweet. It was such a heartwarming story and very relatable to people of all ages. I just love how Tommy comes to so many realizations and grows and learns through his own imagination . . . or is it?"
– Nicole Eggert, American actor best known for her role as Jamie Powell on 
Charles in Charge
 and Summer Quinn on 
Baywatch
.
"Tommy stands like a hero as his world tumbles around him, much like the much-loved Harry Potter in his magical fantasy series of stories. Powerful and effective. Well done!"
– Reader's Favorite
"Tommy and the Order of Cosmic Champions is a challenging but rewarding heartwarming coming-of-age novel."
– The Children's Book Review
"An earnest, entertaining tale of adolescence and fantasy fandom."
– Kirkus Reviews
"This exciting fantasy is filled with fun 8-bit era pop culture references, spot-on comic dialogue perfect for kids, and plenty of thought-provoking morals that will engage readers of all ages."
– Publishers Weekly/BookLife (Editor's Pick)