There aren't many people brave enough to write guest posts for my blog.  For one thing, there's no telling if I'll actually post the article.  I'm easily distracted, and my memory has been described as "complete shit."  If I do post an article, it's entirely possible that it won't be the right one.  And if it is the right one, I may make unauthorized edits to it.  These edits will not enhance the reader's enjoyment of the piece, unless you share my humor and think inserting "cucumber melon" in the middle of a sentence is the height of hilarity.
Despite these warning signs, Cate Gardner–being a woman of  great taste–has decided to forge ahead and go where no other sane writer has gone.  What follows may or may not be the original and completely unsullied work of the great and wonderful Cate Gardner.  It also may or may not mark the last time anyone will ever write a guest post for my blog.  There's simply no cucumber melon way to know.
"The Travelling Theatrical Tour: Things That Never Will Be Again"
Thank you to Tony for inviting me to post on his blog to celebrate the release of my novella Theatre of Curious Acts.
The journey from the first draft to the final draft can be a rocky road. One strewn with ridiculous things that need erasing, burying, and should never be spoken of again (except here of course). Here are some things that were in Theatre's original draft and evidence of what can happen when you write a book during the madcap month of NaNoWriMo.
The cast of THE BREAKFAST CLUB. Seriously! Some of whom were eaten by zombies.
A cactus. Prickly fellow
A spaceship
The possibility of losing bits of yourself on the cutting room floor
An angry Goth
A man who wasn't so brave
A yellow sweater
Such things were replaced by…
An iron figurehead who tears free of her ship
Stormdust – where Napoleonic armies battle soldiers from The Great War
The Anabiosis Station, its sleek black trains and their ghostly passengers
A man who was very brave
The heartbreaking finality of Walter James Cole
The Acts Curious of Theatre
Thank goodness for redrafts and edits.
And you can read of such things in Theatre of Curious Acts which is available at all good online bookstores. Here be a blurb:
Daniel Cole wants the world to  end.
Returned home from the Great War, his parents and brother in their graves, Daniel walks a ghost world. When players in a theatre show lure Daniel and his friends, fellow soldiers, into a surreal otherworld they find themselves trapped on an apocalyptic path. A pirate ship, helmed by Death, waits to ferry some of them to the end of the world.
Already broken by war, these men are now the world's only hope in the greatest battle of all.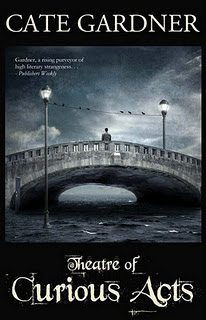 More information is available at www.categardner.net