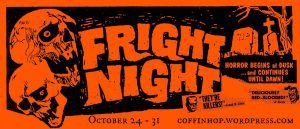 Greetings, you slimy monsters of the deep, and welcome to this year's Coffin Hop!  We have such sights to show you!  (First person to comment with the movie that this quote is from gets a free ebook copy of my short story collection, Welcome to Moon Hill (perfect for Halloween).
And we're off!
But wait, that wasn't the big contest.  Just a little nibble-nibble of Halloween candy for you.  Here, let me explain in person:
Now then, as I mentioned in the video, I have an online Halloween Costume Contest being hosted by the good folks at Photoscramble.  Head on over, and add up to two entries of your best costume photos.  And don't forget to vote on which ones you think are the best.
The first prize winner gets a $25 gift card for Amazon.
The second prize winner gets a horror ebook gift pack, which includes both Welcome to Moon Hill and my debut novel Soundtrack to the End of the World (among other books).
You might have noticed that I have a blog tour going on.  Hit the blog tour page to catch up on posts, or take a gander at my newest post, "Killer is as Killer Does," on Vidya Sury's blog.
Still here?  Well then, maybe you'd like to know more about my life, including my 20 years as a juggling vagabond, my short stint as Edgar Allan Poe's cat, and my many years as a number of lowly creatures.  Or perhaps you'd like to lap up some free short stories, available through a number of online magazines.
And hey, I'm not trying to sell you on anything here.  Honestly, I'm totally not trying to pitch my work.  I'm telling you, really, most sincerely and truthfully,  you don't have to purchase a single thing to enter my contests.  But–ahem–in case you were wondering, you know, out of pure curiosity and not at all because you wanted to spend $3.99 on an ebook about music that infects the listeners, turning them into some kind of  screaming creatures, I could always tell you a little more about my novel:
Who knew the end could sound so good.
A suicidal nudist strolls into traffic.  An eccentric Buddhist claims he can occupy other people's bodies.  All the while, whispers of a new form of entertainment blow through town.  Prompted by these strange occurrences, Marty Raft, a not-so-gentle giant, investigates and discovers underground clubs peddling music that induces an out-of-body experience.   Marty and a wannabe comedian, Corey, set out to prove these special frequencies are nothing more than a hoax, or at worst, a mass-drugging.  Instead, they uncover a secret with world-ending possibilities.
If you can hear the music, it's already too late.
This has been fun.  Have you had fun?  I sure hope so.  But hey, the fun is not over, because there are dozens upon dozens of blogs for you to still visit.
Well lookie here, a straggler.  One of the few psychos that actually read to the very end of my rambling, spittle-covered post.  Well guess what.  For sticking around, here's a hidden giveaway just for you!  If you are the first person to correctly identify the movie the following quote is from, you'll get a free copy of the Collector's EP Coffin Hop Anthology Sampler.
"No-one will ever love you like your mother!"
Happy Halloween!