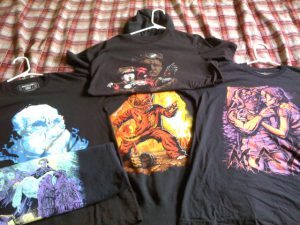 I've never been a fan of clothes shopping.  I hate it, in fact.  Clothes serve a utilitarian purpose, and as far as I'm concerned, that's all.  That means two things.  One, I usually look like a bum.  And two, I never spend extravagant sums of money of fashionable clothing.
Well, almost never.  My one vice when it comes to clothes is Fright Rags.  Their shirts are the coolest things I've ever placed against my skin.  When I wear their shirts, I may still look like a bum (due to my beard, long hair, and torn jeans), but at least now I look like a murderous bum.  A bum willing  to deal some serious damage if someone tries to take my shopping cart of cans.  Not unlike their new shirt for Hobo with a Shotgun.  If any of my novels or stories ever make it to the big screen, you better believe I'm giving this group of pure awesome the exclusive rights to make the shirts.  It's only right.
Treat yourself this Halloween.  You don't even have to go door to door.
Speaking of going door to door (see what I did there?), don't forget about going blog to blog during the Coffin Hop, starting October 24th and going till October 31st.  Remember, every participating blog (including mine!) will be holding a contest, which means you'll have over 70 contests you can enter.  I likes them odds.
For my own contest I've decided to give away a Halloween Mystery Bag.  It will contain a whole lot of goodies, probably consisting of some sort of fiction (magazines, books, etc), candy, toys, stickers, Halloween related goodness, and whatever I can shove into one of those USPS flat rate boxes.  You don't want to miss this one.