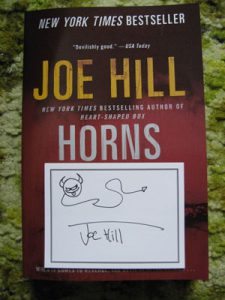 When I was younger, I loved mail.  I'd send out cereal boxtops and enter contests to ensure a constant stream of overstuffed, padded envelopes.  I'd receive all kinds of goodness: a Tony the Tiger baseball, a Kool-Aid cup (Oh Yeeaahhh!), and even X-Men Figurines.  It was like celebrating mini Christmases all year long, and I loved it.
These days, mail isn't quite as thrilling.  Bills?  Booo, hisss!  Junk mail?  Yawn.  Every once in a while, however, I still get to celebrate a mini-Christmas moment.  Today was one of those days.
First, in an unassuming envelope, I found a signed bookplate from none other than Joe Hill.  It was part of a promotion for the sale of his paperback, HORNS.  Word of advice: if you haven't read this novel yet, don't wait any longer.  You're doing yourself a disservice.
Second, I found the contributor's copy of my chapbook, UPROOTED.  Mr. Aaron Polson did an amazing job with the cover art.  I find myself glancing at the book every now and then to make sure it's real.  If you're interested in obtaining a copy, I'm told there are only three or four left, so order soon.  It contains three of my short stories and is both signed and numbered.
If you have already purchased a copy, the books are currently shipping.  In fact, there have even been a couple sightings in the wild.
Now go check your mail!  If you're lucky, a mini-Christmas surprise might even jump out and scream, "Oh Yeeaahhh!"