Tommy and The Order of Cosmic Champions
In October of 2020, a pillar of the retro community approached me to ghostwrite a novel. During a year when most of us already felt like specters haunting empty houses, I was prepared to further vanish into the background of the proposed project. To be the hidden man behind the words. To rattle my chains in abandoned bookstores.
As it turns out, you'll be able to see this ghost because my name appears on the upcoming novel, Tommy and the Order of Cosmic Champions.


Anthony D. Grate pitched an incredible coming of age story set in the 1980s. Twelve-year-old Tommy Grant begins to imagine his favorite cartoon characters are talking to him when unfavorable circumstances at school and home eclipse his once happy childhood. After losing a drawing contest for the Order of Cosmic Champions cartoon, Tommy decides to run away and find the winner, Aaron Beltzer. He plans to convince Aaron to use his power as "president for a day" at Telco Toys to turn Tommy's character into an action figure. Along the way, the manifesting villains of OoCC threaten Tommy's goal while pulling him into increasingly dark altercations that cause him to question reality.

I'm proud to announce I have completed the 106,000-word alpha draft, bringing us one step closer to publication.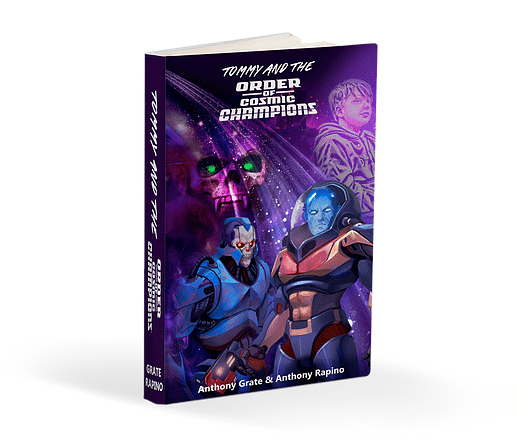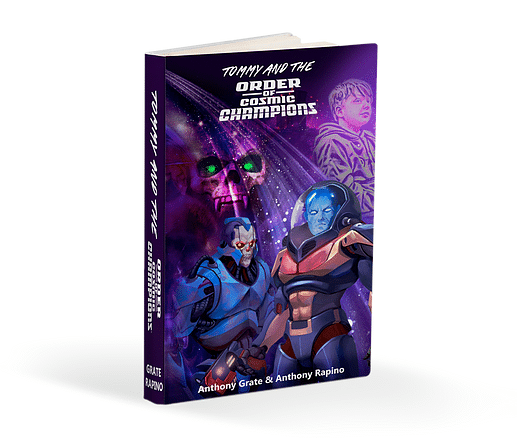 As exciting as it is to announce this new project, even better is the insane number of tie-in products Anthony has been working on. There is an official webpage where you can sign up for updates. You'll find endless character designs, listings for the upcoming physical action figures, background information about the book, and so much more.
The amazing thing about this project is that what I've shared only barely scratches the surface of what will be available once we launch. I can't wait to tell you even more about the project, but for now feast your eyes on the Order of Cosmic Champions Official Webpage, sign up for updates, and subscribe to my newsletter so you don't miss a thing. And be sure to come back in a couple days for yet another huge reveal about this project.