Hey, gang.
I have a few big updates for you today, many of which have me squealing like a little girl.  Yeah, you heard me.
First, I received a brilliant review from Chris Hallock at Chizine.  Here's just a taste:
If you haven't reached your limit for zombie survival books, Soundtrack to the End of the World offers enough originality to keep jaded audiences engrossed. I can guarantee you'll be invested in the well-developed characters. The novel fits into a spot on the shelf alongside Tony Burgess' Pontypool Changes Everything, David Moody's Hater series, and other post-apocalypse tales that offer an innovative take on a zombie outbreak scenario. Rapino's novel may be the first metaphysical book of its kind, and one that ups the ante for survivalist horror.
I am smiling from ear to ear, and that's the truth.  Read the review in its entirety on Chizine's website, but be warned, there are some spoilers in there.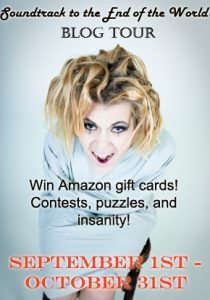 Next, I'd like to formally announce the launch of the Soundtrack to the End of the World blog tour.  Although I've flirted with a mini blog tour when the novel was first released, I can guarantee, this one is the real deal.
The tour will run from September 1st all the way till October 31st, and it will include two major contests, each giving away a $50 Amazon Gift Card.  There may very well be other prizes as well.
Notice I said "contest" and not "giveaway."  That's because to win, you will have to collect 12 game pieces (given out at the blog tour stops), which you will have to put together like a puzzle, and then decipher!  The second contest is a surprise, which I will announce in October.
As if that weren't enough, my tour stops will include all manner of insanity, such as guest posts, interviews, reviews, character interviews (from the novel), and much more.  I know that does sound insane, but remember who's doing the writing here.  Yuhuh.
Want more information?  Hit up the official blog tour page.
Want to start interacting with the tour hosts and other contestants and readers?  Climb aboard my Insanity Rocket.
And finally, one of the hosts of my blog tour–from Jess Resides Here–has started us out with a early preview for her "Sunday Shorts" selection.
See you all on the Insanity Rocket!