Thank God!  You've made it through the portal in one piece!  Let me take a look at you.  Are all your parts intact?  We've had a few hiccups with transportation and members–lets say–"misplacing" appendages.  No worry, no worry.  I'm sure all of the wayward limbs will find their way home in time.
Where is home?  Moon Hill of course, and welcome, welcome!  Over there to your right is Jack's Hill and Lantern Rock.  They are the town's namesake, and if you look closely I'm sure you can see why.  Straight ahead there is Old Road where you'll find the majority of the businesses.  Just ignore the scarecrows for now, and that woman there, the one screaming her way down the center of the street.
There are plenty of unusual things you'll find here, like the Topsy-Turvy Man, strange rocks, and other peculiar artifacts.  Don't believe me?  Head over the the brand new Kickstarter Campaign and find out about all the wonderful Moon Hill artifacts available!
It would absolutely mean the world to me if you support the campaign any way you can, even if that's just by sharing it far and wide.
We have other things to amuse ourselves with too.  For instance, how about this exclusive member's-only coupon code for the Candy Corn Apocalypse Web Store!
COUPON CODE:  BeSureToDrinkYourOvaltine
The coupon code is yours; take it!  Use it in my horror shop for anything your heart desires.  But that's not all!  As an official member of the Candy Corn Apocalypse Army, you are eligible to enter this fantastic Mini Mystery Box Giveaway! Just use the widget below to enter, but remember, the coupon code and giveaway are ONLY for members, so don't share any of this with outsiders.
Thank you all again so very much for taking a chance on this little Halloween Club idea I had.  I hope it will continue to grow and offer unexpected and weird tricks and treats to your days.  As we move forward, I'll keep in touch using the newly established Secret Transmissions From Moon Hill Newsletter.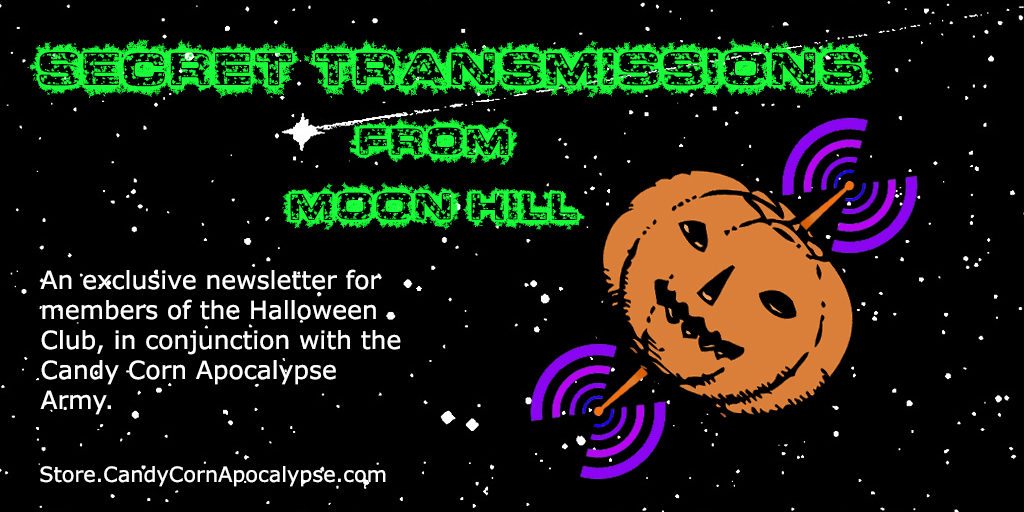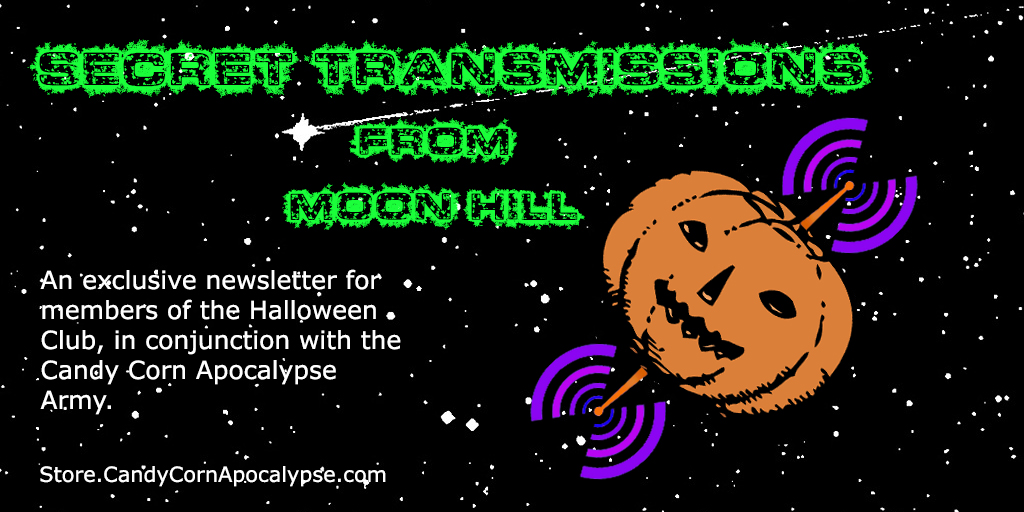 Moving forward this will be my primary form of communication; however, I will also continue to update this secret web page with messages, exclusive artwork, and more.  Whenever I call out to Official Candy Corn Apocalypse Members to "Enter the Secret Portal to Moon Hill," it will mean you should scan the QR code and come here for a secret announcement. I will usually say this on the Facebook page, twitter, and within the newsletter, to ensure everyone sees it.
I hope you are all enjoying your Halloween Club packages!  Please consider doing an unboxing video if you have a moment.  And don't forget to hold onto that raffle ticket!  I'll do a drawing for the winner once everyone has received their packages.
Until next time, breathe deep of the night!
-Tony