August's Chorus Welcomes You
Once the chirpy bugs begin their annual chorus, I know summer's time is limited. To me, it's a song of the approaching school year, harvest, and autumn. To them, well, they're just trying to get laid.
Since I'm a teacher, even as an adult I feel those same strange melancholy shivers I did as a kid, knowing that pretty soon summer will be over and all the trappings of work and school will overtake my life. Weaved into those emotions are pleasant reminders that soon autumn will blow through with crisp wind, soothing the sharp edges of the tedious school day. Apples, pumpkins, and hay bales will appear like phantoms, adorning every porch.
I have to stop myself there, because it's not quite time. It's still 90+ degrees outside and even though local shops are starting to sell plastic ghosts and pumpkin pails, I'm not ready. On the one hand, I could argue I celebrate Halloween all year long. One look around my office—at the blow molds, pumpkins, and horror décor—and you'd likely agree. On the other hand, I don't fully feel the Halloween spirit until days grow short and wind grows chill. Until the leaves change and apple orchards overflow with autumnal delights.
In the meantime, I'll continue looking forward to the Halloween seasons while also trying to enjoy what's left of summer. These last few hot weeks of drive-in trips and uninterrupted writing.
Besides the heat, July has been a good month. We finally made it to the Mahoning Drive-in this month to see The Blair Witch Project, and hopefully we'll make the trip at least a couple more times this year.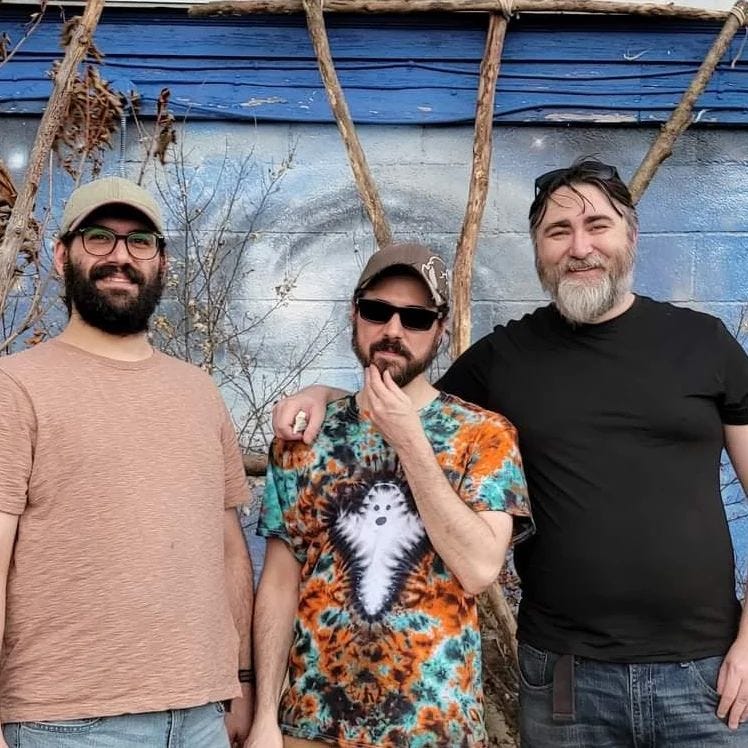 ---
Writing News
On the writing side of things, I've managed to exceed 30,000 words on the new novel I'm working on, another novel has moved on to a publisher's second round of reading, and positive reviews continue to roll in for the upcoming Tommy and the Order of Cosmic Champions. In addition, a new podcast episode of Dead Headspace is available now, featuring myself and Tony Grate talking all things Tommy and the OOCC!
We continue to offer free bonus items for any preorder of the hardcover via purchases made through this link: https://shoutout.wix.com/so/9eO6NCIbW?languageTag=en#/main However, if you're on the fence about a hardcover purchase, be aware that we will also have an ebook version of the novel launching alongside the hardcover.
One last piece of good news regarding the new novel. Tommy became a #1 New Release in a couple Amazon categories!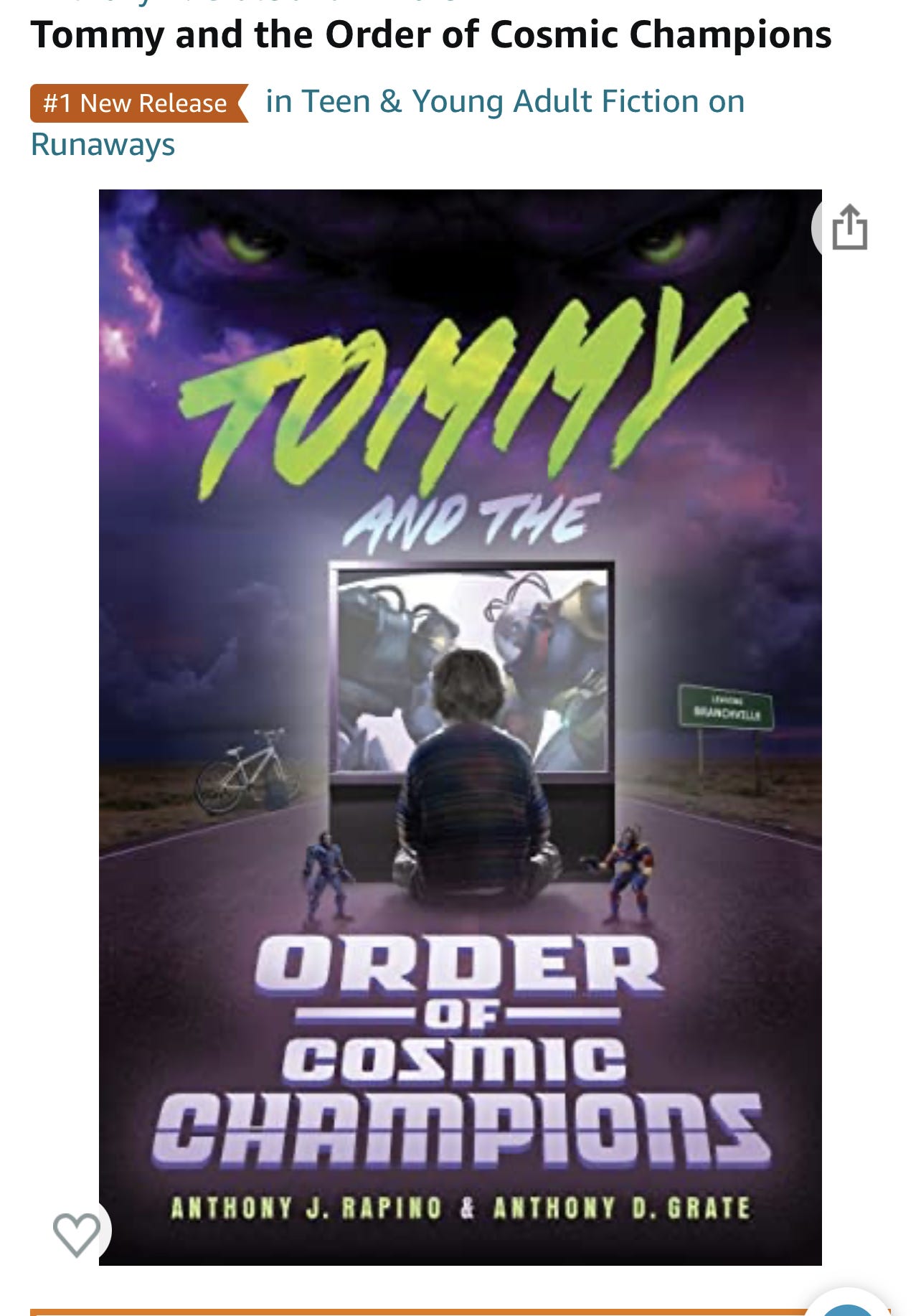 ---
July Stats
21,453 words written for the new novel
Two articles written for The 80sXchange
One article written for Retro-Daze
Thirteen movies watched
Most listened to band this month: Church of the Cosmic Skull
Second place most listened to band: Oingo Boingo
Most listened to playlist: Horror Writing Soundtrack
Two books read (Halloween Fiend, by C.V. Hunt and Until Summer Comes Around, by Glenn Rolfe).
Currently reading The Haunting of Henderson Close, by Catherine Cavendish.
---
Store News
After much stalling and hesitation, I finally decided to use a drop shipping program (Printful) in order to restock my old tee shirt designs as well as add new products (like hats, mags, tote bags, and more) which will be added incrementally.
But right now you can get three different designs on shirts or hoodies!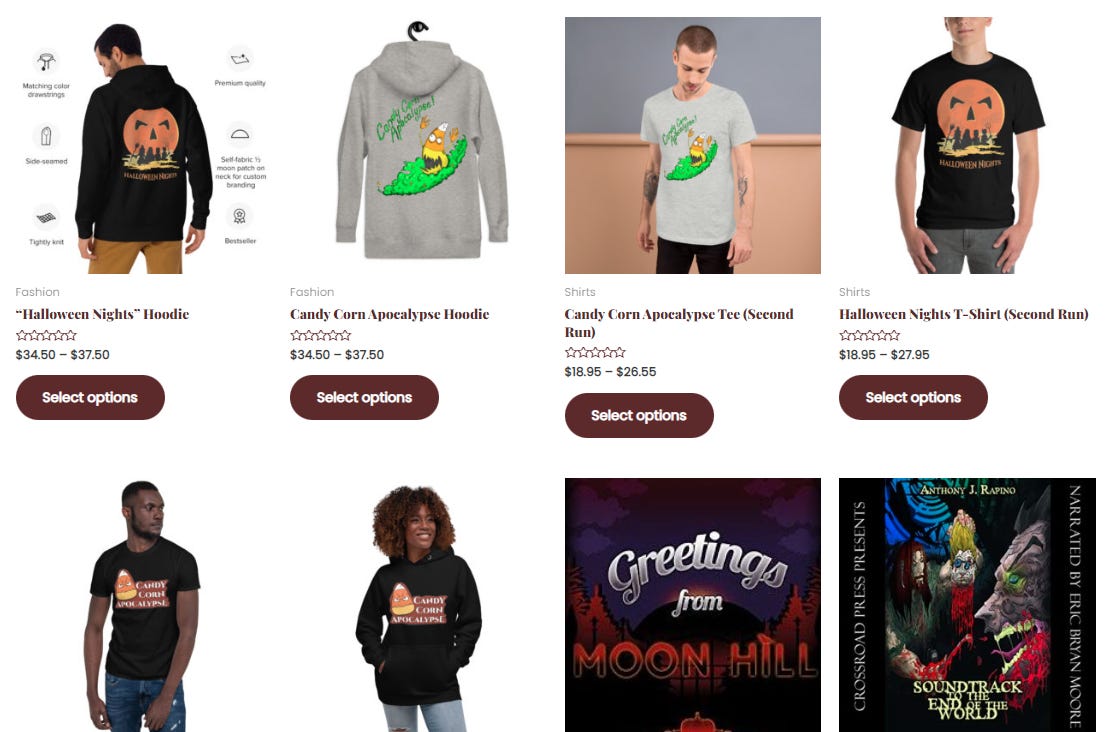 One of the major benefits is that you can now select from a number of different color options as well as sizes.
---
Patreon
If you're looking for a cheap and easy way to support my work, consider becoming a member of my Patreon, with memberships starting at only $1 a month.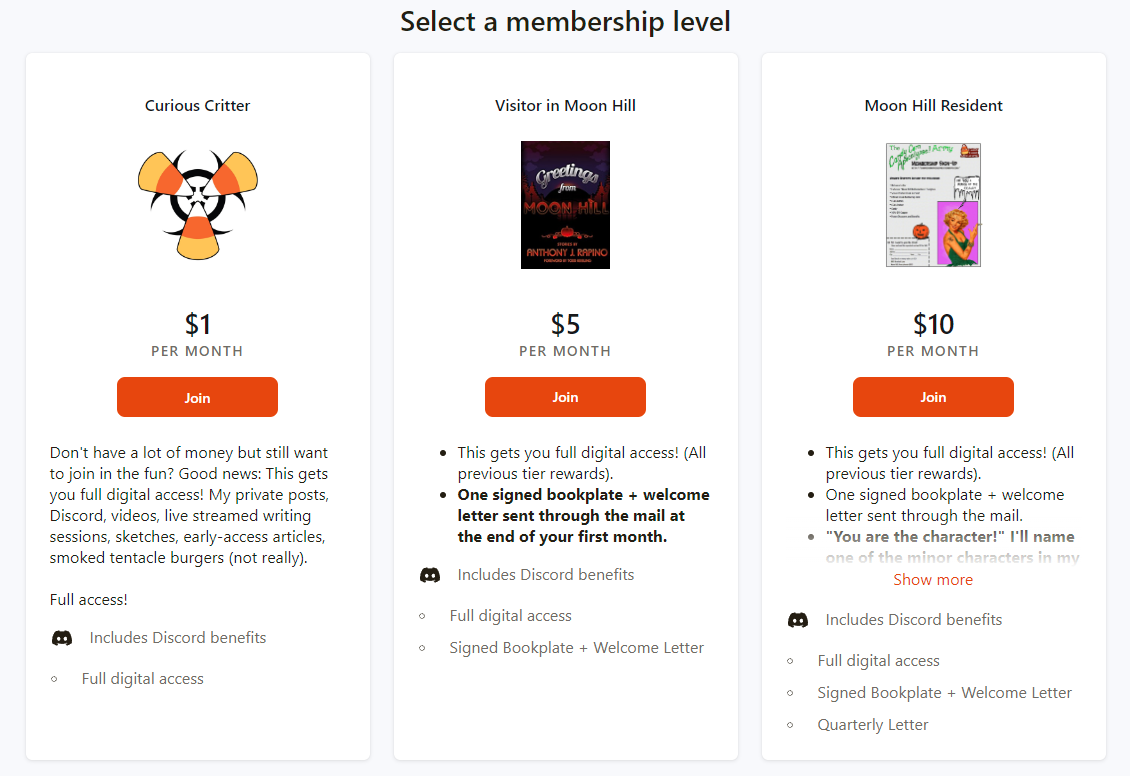 ---
Until next time, Breathe deep of the night.