UPDATE:  I am proud to announce that my debut novel, Soundtrack to the End of the World,  is officially available!
Available Now!
Bad Moon Books:  Signed Limited Hardcover Edition
Bad Moon Books:  Trade Paperback Edition
"An impressive debut. Rapino's voice and wit turn this trippy, blood-soaked, body-swapper into a screaming good time."       –Michael Louis Calvillo, author of BLOOD AND GRISTLE
"Fast paced, funny, well written and with a new compelling twist on the zombie, Anthony J. Rapino has created a story that delivers intensity and thrills without lacking great characters. Novels like this make me proud to be a horror writer."        –Benjamin Kane Ethridge,  Bram Stoker Award-winning author of BLACK & ORANGE
———————————————————————————————–
No, not THAT Labyrinth!  I mean, sure, great movie and all that.  It's just not what I'm referring to.  You understand, don't you, Bowie?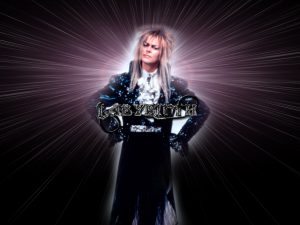 No need to get sassy.  You're just going to have to take a back seat this time.
Don't give me that look.  The old "Pomeranian eyes" may work with the ladies, but I know better.  Skedaddle, Bowie.  Git!
No, no.  It's too late for gifts, no matter how much I like shiny balls.
That is NOT what I meant by shiny balls.  Put that thing away and let me get on with my post.  Freakin' David Bowie.
Sorry about that folks.  Bowie is always popping up where he isn't wanted
Some of you (like one or two) may have noticed I've been gone for the bulk of November.  I haven't been purposefully neglecting my blog.  Oh, far from it.  The truth of the matter is I've been lost in a labyrinth.  It's a dark place, and I'm afraid I'm  hopelessly lost.  In fact, it wasn't until yesterday that I had a breakthrough, thanks to the amazing Cate Gardner.  You see, she sent a little twitter message.
When my phone buzzed in my pocket, I screamed like a little girl.  Now, I'm no dope.  I checked for cell service a long time ago.  Little did I know, however, there is a faint wifi signal here in the labyrinth (hence my finally being able to update the blog), and Cate's message alerted me to this!  Better still, I've found that I can use the wifi signal as something of a compass, going in the direction of increasing signal strength.  It's only a matter of time now.
Since I don't know when I'll next have a strong enough signal to broadcast to you, my loyal followers, I have decided to make an announcement:
Within the next two months, I will release my first ebook short story collection, Welcome to Moon Hill.  It will contain over a dozen never before seen stories and one or two reprints of favorites.  Be cautious if you do decide to accompany me to Moon Hill, because like entering the labyrinth, you may never leave.