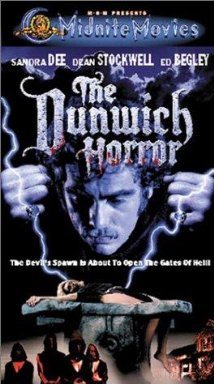 This is not the first time I've written about my horror movie  marathon exploits.  Nearly every year, around this time, I end up listing what I think are key movies to watch during October.  This year, however, I'm approaching it in a slightly different way.
You see, I recently joined a Facebook group called Halloween Horror Movie Marathon Madness.  This particular group has made a game out of the horror movie marathon.  There are (fairly intricate) point systems in place for the movies/tv shows/Halloween specials you watch, and a panel of judges to keep score.  This year's theme is Video Nasty, and there are all kinds of bonus points if you watch movies off the Video Nasty list.
Of course, I had to join in the fun.
As part of this game, I'm required to post every Sunday in October the list of movies I've watched that week, and the possible points I get for them.  In that way, I invite you, my bloody readers, to drop by and use my weekly roundup as a suggested list for your own horror movie marathons.  Instead of making one list, you'll get updated suggestions every week of October!
To start things off, here's a preliminary list of all the wonderful horror I've watched thus far (these don't count towards the game.  They are just marathon suggestions that I've already consumed)
The WNUF Halloween Special:  You can hit the link for my full review of this one, but the long and short of it is that this is a must-watch for me during any Halloween movie marathon.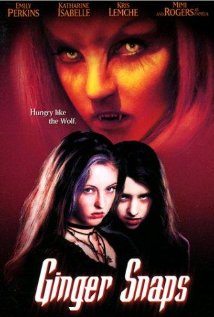 Ginger Snaps:  I just watched this one for the first time last night after being told by more than one person that I was crazy for not having seen it sooner.  It was a fun werewolf film that had some deeper thematic trends concerning young girls becoming women in high school.  Good gore in this one too.
The Devil's Rock: This New Zealand movie is a period piece that takes place in 1944, on the eve of D-day.  It doesn't have the best ratings, but I enjoyed it quite a bit.  I found it to be a strange mash-up of the movie Lo, a war movie, and the Twilight Zone episode "The Howling Man."
The Terror Within:  This one is a toss up.  It wasn't the worst movie in the world, but not necessarily something I recommend.   If you're looking to fill out your marathon list with an 80's post-apocalyptic creature feature, this might be a good choice.  Again, sort of a mash-up between Alien and pretty much any end of the world style movie.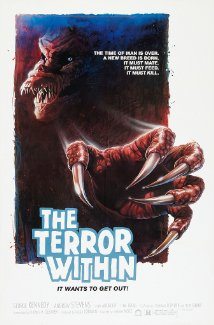 The Dunwich Horror: This 1970's HP Lovecraft inspired movie has long been on my to-watch list.  Having now seen it, I'm not sure why.  It had plenty of over-the-top moments, poor acting, and peculiar plot-points.  And yet, though I may never watch it again, it was enjoyable.  Bonus points for a young Dean Stockwell doing his best crazy-eyes.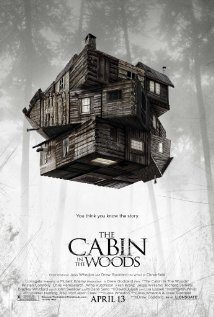 The Cabin in the Woods:  there's really not much to say about this other than I've watched it before, and I'll watch it again.  Probably every year.
Some other notables from this month are An American Werewolf in London, Hemlock Grove, Transylvania 6-5000, C.H.U.D., The Bay (not recommended), and some random Elvira-hosted movies.
Usually, I like to ramp up my marathons, starting as early as August.  What I do is I start out watching mostly horror movies that I have never seen before.  I'll do this all the way through September, and once October hits, I start integrating my "must-see" movies, until the big night arrives, when I watch a very specific line up of Halloween specials and movies.
Seeing as how the 19th was the Harvest Moon, yesterday was the Autumnal Equinox, and it is officially autumn, it's high time you start on your own marathons.
What are you watching tonight?