I don't do this enough (or perhaps I do it too often?), but I have a big old stack of announcements that have been doled out piecemeal on Facebook and Twitter over the past weeks, and I want to get it all together in one place.
I mean, here's the thing.  I'm a horror writer, and it's nearly October.  If I'm going to sell books, now is probably a good time to try.  Many people are looking to read some scary horror stories for Halloween.  I'm just here to try and help fill that void.  At least, that's what my zombie plush doll, Zed, keeps telling me.  So, here comes the boom:
I am signing books at The Quiet Man Bookshop in Mountainhome, Pennsylvania.  The event starts at noon with my signing, and will continue with other authors and musical guests.  If you're in the area, stop by and say hi!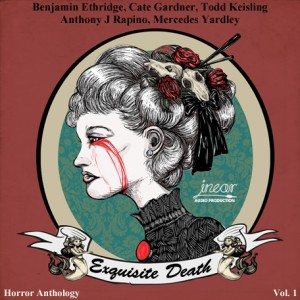 In Ear Entertainment has recently posted a podcast of me being interviewed by Mark Chatterley.  It's a hell of a lot of fun and free!
If you enjoy the podcast, perhaps you'd like to purchase the audio book anthology Exquisite Death, featuring my story "The Plumber."  And if you're still not convinced, take a look at this great four-star review.
And finally, I've had two great book reviews come out for my novel Soundtrack to the End of the World.  The first can be found on the Horror Novel Reviews website, and the next over on Goodreads.
See, that wasn't so bad.  Or maybe it was.  Who knows.  All I can tell you is that my next posts here will be all about Halloween again, so no need to panic.