It's over.  Halloween has passed us by, and October has given way to the chill of November, but we have some unfinished business, you and I.  There's still that last week of marathon movies to list for you, and a recap of the holiday.  If you'd like to go back and peruse my other marathon lists from this year, and year's past, click this link: http://www.anthonyjrapino.com/category/horror-movie-marathon-lists/
Let's start with a recounting of Halloween:
There you have it, a successful and fearful Halloween.  What did
you 
do for the big night?
Now then, on to the marathon list:
COMEDY BANG BANG "Pee Wee Herman Wears a Halloween Costume" / DVR / 30 mins
5 rotten corpses
I love this show.  The irreverent, weird, surreal, and often borderline psychotic comedy really hits the spot.  This particular Halloween episode featured Pee Wee Herman!  I mean, come on!  Perfect.
THE POSSESSION / Netflix / 92 mins
4 rotten corpses
I was warned off this one by someone at some point, and I listened for far too long before finally viewing it this past week.  I enjoyed it quite a bit.  Was it original?  No, not really.  and I think that's the drum that many critics of the movie continue to beat: "It's the same old possession movie with nothing new added to the genre, blah blah blah."  Yeah, they have a point, but I've watched plenty of derivative flicks that are still quite good, and this is one of them.  Besides, there are some new key elements added into this movie that set it apart.
DEAD SNOW / Netflix / 91 mins
4 rotten corpses
And here's an example of a movie that people have been telling me to watch for months, and which does not live up to the hype.  Is it good?  Yes.  And yet, I walked away from this one having expected more.  I think I have to stop listening to people, because it's becoming obvious that other people's advice is skewing my own viewing experiences.  Still, I do recommend this one; it's fun, and I appreciate all the horror movie references in it.
SUSPIRIA / DVD / 98 mins
5 rotten corpses
This movie is in my own DVD collection, and yet, I haven't watched it in nearly a decade.  I don't know why; it's a great movie.  The one benefit to not watching a movie in that length of time is that it's like seeing it for the first time again.
Charlie Brown and the Great Pumpkin / DVD / 30 mins
5 rotten corpses
I watch this every single year, and that will never change.  Don't be a blockhead.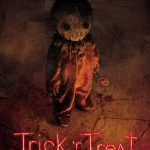 TRICK R TREAT / DVD / 82 mins
5 rotten corpses
Another "must" for Halloween.  Quite possible the single best movie to watch on Halloween (and yes, I'm aware that may seem sacrilegious to put this above the movie Halloween, but I'm not going to go back on it now).
ROSANNE "Trick or Treat" / DVD / 30 mins
4 rotten corpses
This is a good episode.  Not as good as the first on the "Halloween episodes DVD," but still a lot of fun.  I would have liked to watch the entire DVD, but I ran out of time.
GARFIELD"S HALLOWEEN ADVENTURE / DVD / 30 mins
5 rotten corpses
I will never skip this one either.  Every year, without fail.
PETE AND PETE "Halloweenie" / YouTube / 30 mins
5 Rotten Corpses
You are the chosen one!
RETURN OF THE LIVING DEAD / DVD / 91 minutes
5 rotten corpses
I usually end up choosing only one or two zombie flicks for the final week, and this year I went with Return.  I love the humor in this movie, the gore is great, and hell, the movie is just too much fun.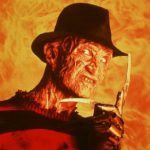 NIGHTMARE ON ELM STREET (1984) / The big screen! / 92 minutes
5 rotten corpses
When I was a kid, Freddy was my favorite horror movie villain.  Not much has changed.  I saw this one in my local theater on Halloween night…bonus points?
REANIMATOR / DVD / 86 mins
5 rotten corpses
You might have noticed that all the movies I watched on DVD (therefore, the movies I own) all get 5 rotten corpses.  This is not an accident.
GRIMM / DVR / 2 episodes 1 hour each = 2 hours
4 rotten corpses
I enjoy this show quite a bit.  The two-part season starter had lots of voo doo zombies on top of the usual Grimm fairy tale goodness.
KEY AND PEELE Halloween episode / DVR / 30 mins
5 rotten corpses
This is one of the best (if not the best) comedy skit shows on television right now.  Period.  They focused on some great horror-centric skits for this episode.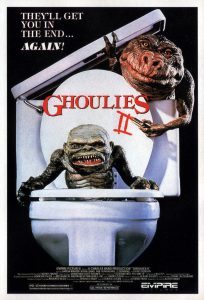 GHOULIES 2 / Netflix / 89 mins
4 rotten corpses
I needed a little blast from the past.  Not the best movie in the world, but oh so much fun.  Everyone should take a trip to Satan's Den now and then.
LAKE MUNGO / Netflix DVD / 87 minutes
2 rotten corpses
Someone recommended this movie.  Apparently they were not aware of my intense dislike of found footage horror.  Only when it is done very well can I stand to sit through them, and in this case, I was not pleased.  It was done well and all, but it bored the pants off me.  These found footage movies really have to do something new or special for me to be interested.  This one did not.
Well, that's my list for the week of Halloween.  I hope everyone had a great holiday!