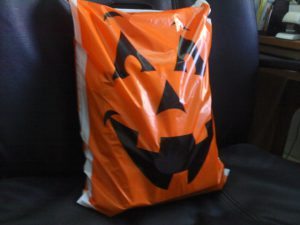 There you have it.  The Halloween Mystery Bag in all its glory.  The bag is stuffed full with all manner of glorious Halloween goodness.  I'm not too proud to say there were more than a few things I purchased for the bag that I wanted to keep for myself.
How do you win this grand bag of mystery?  Surf back to my Coffin Hop post and read the instructions.  All it takes for the easiest entry is to follow my blog and comment with the answer to my question (which is now plastered all over the comment section anyway).
You have till midnight on Halloween night to enter.  What are you waiting for?
With Halloween so close, almost everything I've been doing has had some horror edge to it.  Take, for example, my dinner last night: Brain with a side of congealed blood cakes.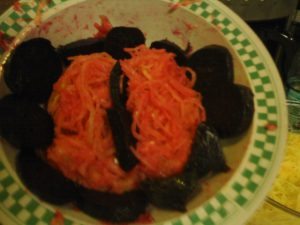 Really it's just spaghetti squash and beets, but that's no fun.
I also whipped up some tasty chocolate covered pretzels.  Some with peanut or toffee on them.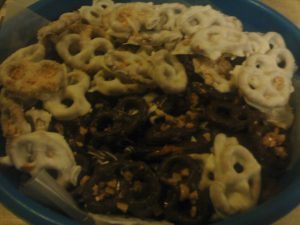 I know.  What's so Halloweeny about that!?  I had planned on making Black and Orange chocolate covered pretzels, but  the store was all out of orange.  So…white like ghosts?
Finally, Miss Awesome-sauce herself (Also known as Indy), sent me another zombified picture of myself.  She used a site online called MakeMeZombie.com and one of the pictures from my multimedia page.
Personally (and I didn't think this was possible) I find this zombie Tony to be even sexier than the previous one.  Oh baby.
Oh my.  And I nearly forgot my fun and giddy interview with Mary Rajotte at her brand new site, Bloody Bookish!  I discuss things like my alter ego, pie, super powers, and a very special ray gun only I possess.