The big day has finally arrived, and as usual, I wish I could turn back the clock so it could be October 1st again.  I love Halloween of course, but now that it's here, I know it'll be over all too soon.
I spent last night watching the Halloween specials that have become part of my yearly tradition.  Garfield's Halloween Adventure, It's the Great Pumpkin Charlie Brown, and The Adventures of Pete and Pete's "Halloweenie."  At the end of the Pete and Pete episode, there's a song that plays, and it never fails to stir all sorts of emotions around inside me.  The song is Polaris' "Waiting for October."  It's a song the reminds me of a couple different things, and those memories all mingle and create a strange, happy, melancholy, reminiscent soup.
Yesterday I also prepared all my Halloween stuff.
I carved the Jack-O-Lantern
Which took on a cat-like visage
I baked the pumpkin pie
And failed to let it chill completely before removing a slice for my immediate consumption
I prepared the seeds for roasting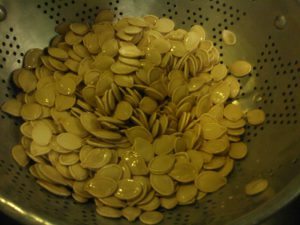 The seeds, little sister!  The seeds!
While all this was going on, I had a few of my home brewed pumpkin ales to pass the time
They've gotten even better since I last tried them
And of course I gazed longingly at the giant bowl of candy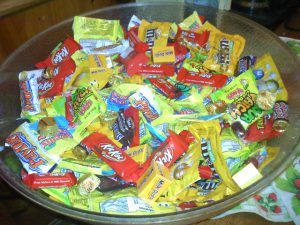 I make sure to buy way too much so there will be plenty left over
Unfortunately, I do teach classes tonight and won't be home until 7PM, which I believe is after trick or treating has started.  I wonder if I should leave out an Honor Bowl…
For all those Coffin Hoppers making their last rounds, I'll choose a winner to my contest tonight, and announce it sometime tomorrow (once I recover from pumpkin ale and candy hangover).  Until then, enjoy these snow pumpkins I have in my front yard.
Happy Halloween!