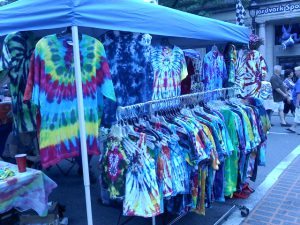 Some of you may have noticed that at the very last minute I posted on Facebook (and other internet outlets) that I would be attending the Pocono Raceway Festival to sell and sign Soundtrack to the End of the World. I go every year to help my dad sell tie dye shirts at his booth, so I figured I'd tote along some of my novels and make a day of it. What follows are the high points, strange statistics, and random thoughts.
To my great surprise, young girls (an estimated age of 6-8 years old) where the ones who most often perused my novel. At least half a dozen or more, at different times during the day, would pick the novel up, stare wonderingly at the cover, and tug on their mothers' skirts to look. In the few instances the parents of these children did look down at the cover (which as you know is bloody and gruesome), they didn't have any reaction at all, or perhaps a bemused smirk. Peculiar.
The one young boy (again, probably around 8 or 9 years old) that I did notice looking at the cover, stared for a long moment, and then started shaking his head with a intensely disapproving glare. It was so funny, I nearly lost my shit. He did not like what he saw.
A great number of people enjoyed "flipping through" the novel.  I suspect they were expecting more illustrations on the inside.
I sold some copies!  Yes indeed.  I met amazing, awesome people yesterday, and if you'll allow me, I'll give a shout out to a very cool couple.  Rose Price of December Luna Music was nice enough to give me her demo CD, Petals on Muses. (which I'm listening to now).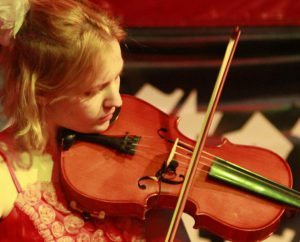 She is a talented musician, and I'm enjoying the hell out of her demo CD.  My favorite song so far is Tunisia Cliffside, described in her pamphlet as a "modern, electronic string quartet piece."  I'll say this: I love it.  It's something I can see myself playing over and over as I write.  My next favorite is Shostakovich Viola Sonata.  It has a hypnotic rhythm over which strings and keys journey in unexpected ways.  This is more writing music for me, I can tell you.
Go like her Facebook page, and listen to her music.  You'll be glad you did.
When I wasn't chatting with fellow artists or selling tie dyes, I was exploring the festival, which was double the size of last year's, with a number of music stages, carnival games and rides, and vendors galore.  I had myself some very tasty hot dogs from a local joint called Cat's Incredible Hot Dogs.  Guess what.  They were incredible!  They have so many choices that there's a giant wheel you can spin to make the choice for you.  If you're in the area, don't miss it.
After that I noticed there was a keg sitting outside another local cafe.  Inside it was birch beer!  And then I noticed there was ice cream.  To this I could only say hell yes, and got myself a birch beer float.
There was even a flash mob at one point.
It was a great day.  Not too hot, no rain, and good eats.