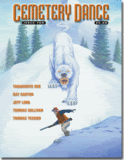 A little bit of good news on this wonderful, rainy Tuesday. A review I wrote for the short story, "The Woman in the Club Car," written by Thomas Tessier, has been published by Dark Scribe Magazine. The review is live, so if you're interested, take a look: Review Article
The story I reviewed is in the current issue of Cemetery Dance (issue #60), which also has an interview with Mr. Tessier.
I'm hoping this is the start of a string of good news.