In between dodging spoilers for Stranger Things, watching summer movies, and cooling down from the heat with ice baths, I've started writing a new novella (or novel?). I recently hit the minor milestone of 10,000+ words on the new project, tentatively titled The Terror High Times, and I'm feeling good about the trajectory. In addition, I have my pervious novel, The Precipice of Nowhere, out for submission again after some finetuning.
How is all this getting done? Well, I lost my summer class due to under enrollment. A double-edged sword to be sure. On the one hand, I have more time for writing and maybe even some new sculptures. On the other hand, I see a lot of Ramen noodles in my future.
Speaking of which, I have a question: Would any of you be interested in a Patreon subscription for my writing if I decided to set one up? You can answer down in the comments below. It's a mere fleeting notion at the moment, but something I've been considering doing again for quite a while.
With all that said, the big news this month is that Tommy and the Order of Cosmic Champions has been getting rave reviews from advance readers!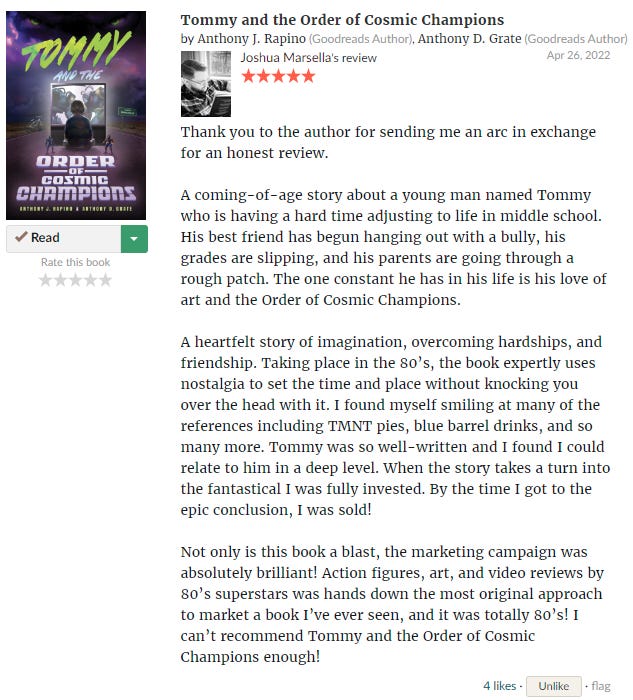 Here's just a taste, but you can click the review names for the full reviews:
The lively story, however, never loses sight of its main theme, as Tommy grows up and learns that one can't always fight change.

An earnest, entertaining tale of adolescence and fantasy fandom.

–Kirkus Reviews
Not only is this book a blast, the marketing campaign was absolutely brilliant! Action figures, art, and video reviews by 80's superstars was hands down the most original approach to market a book I've ever seen, and it was totally 80's! I can't recommend Tommy and the Order of Cosmic Champions enough!

–Joshua Marsella
One of the things I really liked about this book is that there is something for everyone… As I mentioned earlier, I'm not a huge fan of the fantasy genre. Yet, the fantasy levels were enough for me to enjoy and follow along, just like a superhero movie. As a result, this is definitely a must-read for this fall and I'm looking forward to seeing it in stores this October.

–Rachael
A fantastic nostalgia-fueled journey. Tommy and the Order of the Cosmic Champions is action packed, heart warming, and most importantly- fun!

–Fman
You can read all of these and more on the Goodreads page.

As I mention every month, I've also continued to write articles for the 80sXchange, where you can find topics such as "Top Five Obvious Summer Movies to Watch this Season," "Memorial Day Memories," and much much more. This month alone I have added another nine articles for your reading pleasure.
On that note, I should probably get back to the new novel. Don't forget to comment and tell me what you think about a Patreon Page.