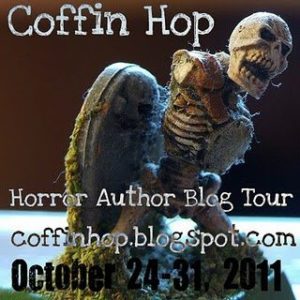 Welcome to the Coffin Hop!  And what a perfect time for it: one full week before The Big Night.  One full week of hopping blog to blog, entering contest after contest for a chance at Halloween and horror goodies galore.
Speaking of winning great prizes, I'm giving away a Halloween Mystery Bag filled with over $50 of assorted prizes.  I'd tell you what you're in for, but that would sort of defeat the purpose, don't you think?
Before I get to the contest rules, let me introduce myself.  My name is Anthony J. Rapino, and I kill people.  Well, I kill fictional people anyway.  It's sort of my thing.  I don't mean to imply that I enjoy such deviant acts.  I mean to state it directly:  I enjoy it. And you enjoy reading about it, otherwise what are you doing on my website?
Oh, right.  The contest.
But wait.  That can't be the only reason.  Surely not.  A normal person, seeing something called "The Coffin Hop" would run screaming in the other direction.  A normal person would scoff, or roll their eyes, or wander into the nearest confessional.  But you, my dear new friend, said, "Oh hell yeah."  You tripped over your own fingertips to click repeatedly on horror blog after horror blog until you reached my dark corner of the web.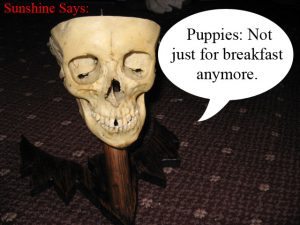 What kind of host would I be to simply say, "Here, comment to enter my contest and get lost."  No.  Not me.  First, let me put your worst fears to rest.  I have nothing to sell you.  My first novel won't be released for a few months (Soundtrack to the End of the World, being published by Bad Moon Books, if you wanted to know).
I do, however, have many published short stories that are freely available through the magic clicky-links on my Works page.  They require no money, only a bit of your time.  Or perhaps you'd like to know more about little ol' me.  If so, you can navigate to the About Me page, where you'll discover the true source of my, ahem, fictional worlds.  And don't forget to click around the Sunshine Says page, where you'll find a talkative skull and her zombie friend spouting all manner of inspirational thoughts.
Now then, the contest.
If you'd like a chance to win the super-awesome Halloween Mystery Bag, follow these simple instructions:
You must follow/subscribe to my website in some form (Google reader, RSS, etc).
Comment on this post with the answer to this question: 

When and where was I (truly) born?

(For clarity, I'll accept either of my birthplaces mentioned on my website).

Make sure to leave me some way of contacting you in your comment (e-mail address, twitter name, facebook contact, etc)
And that's it!  If you want the one simple entry, you can stop reading now.  However, if you'd like more entries into my giveaway…
For extra entries into the contest (one extra entry per method) do the following: subscribe to my newsletter, follow me on twitter, add me on facebook.
For an extra entry, comment on my post here.
Be sure to let me know which of the "extras" you did in your comment so I can add the proper amount of entries to your name.  (If you're counting, you can get a total of 5 entries)
If you already do/did the "extras," (previously followed me on twitter, etc) you still get the extra entries, so be sure to mention it in your comment.
The details
I will draw a winner at midnight on Halloween night and contact the winner soon after.
If I get no response within 72 hours, I will draw again for a new winner.
No purchase necessary to enter.  Void where prohibited.
Okay, that's the long and short of it, my horror loving friends.  When you're done entering my contest, be sure to click the link below and go back to the Coffin Hop list.  There are still many more contests to enter!
1) HAVE A SPOOKY FUN TIME!
2) INVITE YOUR FRIENDS AND SPREAD THE WORD!
3) THIS TOUR STARTS: Monday, October 24, 2011 at Midnight (PST)
    THIS TOUR ENDS: Monday, October 31, 2011 at Midnight (PST)
    Winners will be drawn and posted November 1, 2011
4) MEET AND MINGLE WITH THE AUTHORS! EXPERIENCE A NEW DESTINATION AT EVERY STOP! PARTICIPATE IN EVERY SITE'S CONTEST AND BE ENTERED FOR CHANCES TO WIN MULTIPLE PRIZES! EVERY BLOG VISITED IS ANOTHER OPPORTUNITY TO WIN!
5) PARTICIPATION AT ALL SITES IS RECOMMENDED, BUT NOT REQUIRED. THE MORE SITES YOU HOP, THE BETTER YOUR CHANCES OF WINNING PRIZES.
6) DID I MENTION TO HAVE A SPOOKY FUN TIME?
***Authors have full discretion to choose an alternate winner in the event any winner fails to claim their prize(s) within 72 hours of their name being posted or after notification of win, whichever comes first. Anyone who participates in this tour is subject to these rules***