To help celebrate the release of Welcome to Moon Hill, my first short story collection, I am holding a giveaway that will run through the blog tour.
The prize (which I will continue to add to as the contest progresses) currently includes the following:
A new DVD of The Cry
A signed copy of the new issue of On Spec, which includes my story "When Ayanna Kapoor Waits."
Volume 13 of The Walking Dead graphic novel.
Some random stickers and promo cards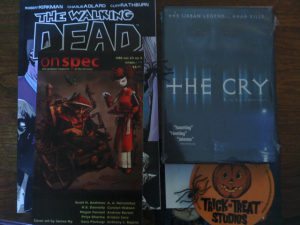 Earning Asylum Points (entries) is easy, and there are multiple ways to do it:
Participate in any of the Schizo Squad challenges.  Simply participating will gain you an asylum point, as well as enter you into the mini-prize giveaways for each of these challenges (usually a free copy of Welcome to Moon Hill): 1 Asylum Point
Purchase a copy of Welcome to Moon Hill:  5 Asylum Points
Tweet about my book, the contest, or the Schizo Squad: 1 Asylum Point (You can earn up to 3 per week)
Post about my book, the contest, or the Schizo Squad on your blog:  2 Asylum Points
Join the Schizo Squad: 1 Asylum Point
Review Welcome to Moon Hill for Goodreads, Amazon, or your blog (Only truthful and honest reviews please.  If you don't like it, say so.  I'm not buying good reviews, only giving incentive to write an honest one):  5 Asylum Points
Comment on any of my guest posts: 1 Asylum Point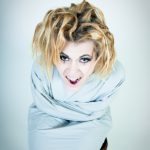 If you do any of the above, please comment here or on the Schizo Squad page to claim your points.  Then check the Asylum Points Page to make sure I'm giving you all your points.  I will keep a public tally of points there so you can see where you stand.
I know I haven't awarded all the correct points, so please comment to let me know if I forgot any of your points.
This contest will run till the end of the Moon Hill Blog Tour (no longer than the end of February).  The winner will be chosen randomly.  The number of Asylum points earned is directly proportionate to the number of entries said user will have in the drawing.  No purchase necessary to participate.  Void where prohibited.  (Yeah, I said it).