First, a short announcement:  I received word today that work has officially begun on the cover art for my novel.  Exciting news to be sure.  Other than that very general news, I'm keeping the other information (like *who* is doing the artwork) close to my chest.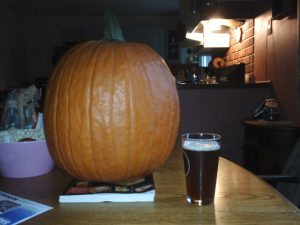 And now back to your regularly scheduled program.
It's almost the weekend, and many of the nine-to-fivers are currently deep in thought, trying to decide what type of alcoholic drink they'll use to clobber their brains in.  Being that it's October (a fact that you'd be hard pressed to miss if you've been reading along), why not some Halloween themed drinks?  There are ever so many mixed drinks that'll do the job, just ask BKE.  (Yeah, I refer to Ben enough that I'm going to start using his initials.  You'd think the guy was paying me for all these plugs!)
Since BKE has that covered, I'm going to dwell on pumpkin ale, specifically *my* Moon Hill Pumpkin Ale.  (Hey, look! There's a BKE reference in that post too.)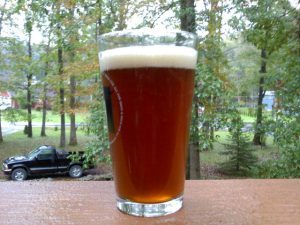 After four weeks of fermentation and clearing, and another five weeks of bottle aging, I finally tasted my creation.  The first thing I noticed was that the color had become somewhat darker than the original samples, but still held a nice orange tint.  There's also a bit of chill haze clouding the beer, but this is nothing more than an aesthetic thing.
The smell is pumpkin up front, with some mellow spices (cinnamon, nutmeg, allspice) coming through the background.  I also get some sweetness in the smell.  It tastes delicious.  There's less body than I expected (more of a light-medium body), with pumpkin and spices dominating the pallet.  There's a nice sweetness upfront that gives way to the spices, which are nice and mellow, not overpowering.  There's a background hit of  "crust" from the biscuit and victory malts.  After a few sips, a nice alcohol warmth grows in the throat.  Very pleasant.
Overall it's a extremely drinkable pumpkin ale.  Sometimes pumpkin ale can be so heavy and powerful that only one will do.  But I can easily drink two or three of mine before wanting to move on.
Here are some tasting notes from a fellow brewer:
"The beer pours nicely, I was thinking at first I was going to get a massive head on it, but it didn't go nuts. It was a nice puffy head that dissipated after the first few sips down to just a covering of the surface.
The beer smells phenomenal…not too spicy, but you can tell it's a seasonal. The taste is much better than the Wolaver's [Pumpkin Ale from Vermont] as you can tell it's actually a pumpkin beer. I think the amount of spices are right on for a beer you want to be able to share without going overboard. I could definitely tolerate more spice, but it's very drinkable and I could definitely drink a number of these sitting around a camp fire.
My personal preference is for just a bit more body on the pumpkin ales, but that's just me.
Nice spice notes, great flavor, awesome beer."
I may decide to give a couple bottles away during a contest, so keep an eye out for that.  Enjoy a few seasonal drinks this weekend.  You've earned it.