Retro-graphic Evidence
"Xardion Lives!"
Around the same time I that I decided to begin sorting through old photos, my brother came by for a visit.  It was Christmas Eve, and we were preparing for our grand feast of the seven fishes, so there wasn't a whole lot of time to reminisce.  But somewhere between pulling the innards out of calamari and chopping garlic, Mike and I dug a few envelopes from the now infamous suitcase of photographs.
Upon discovery of this next picture, I exclaimed, "Man I wish I still had that shirt!"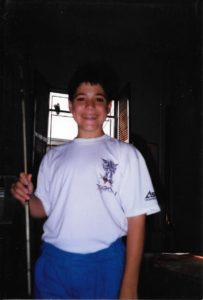 "You remember that shirt?" my brother asked, surprised.
"Sure," I said, and went on to explain that I had won the Xardion shirt in a contest.
Mike laughed at me.  You see, it's been a long-standing joke that I'm obsessed with mail, contests, and collecting things.  At any given opportunity, I would send out for mail-in prizes.  Sometimes that meant collecting cereal box tops, sometimes it meant Kool Aid points, and other times it meant entering giveaways.  No matter what, I sought to receive a package every day of my life.  (This of course was long before I knew that the mail could be used for evil, like bills and junk mail).
I can turn around right now and spot at least a couple items from my childhood.  I can see the signed Tony the Tiger baseball and an envelope from the Burger King Kids Club, for instance.  So when I casually mentioned to Mike that even though I don't have the shirt anymore, I definitely still have the envelope it came in, I expected him to believe me.
He did not.
"Why the hell would you still have the envelope?  That's ridiculous."
"I swear!"
"Yeah, right."
"How about this," I challenged.  "I bet you five bucks I can find it in less than one minute."
He hesitated, perhaps aware that I rarely make a bet I can't win.  But after only a moment's consideration, he shook my hand.  "You're on."
Mike was right to be suspicious.  But it was too late.  The deal was done.  I ran off and dug through my closet.  I pulled out a shoebox and rummaged through it.  Not there.  No wait, I remembered.  Back to the closet, an old airplane model box.  I opened it and pulled out a number of old pieces of paper, envelopes, and yes, there!  I booked back down the stairs.  Mike hit a button on his cell phone and turned it so I could read: 57 seconds.  I had made it!
He said, "So?  You find it?"
And that's when I unveiled the keepsake.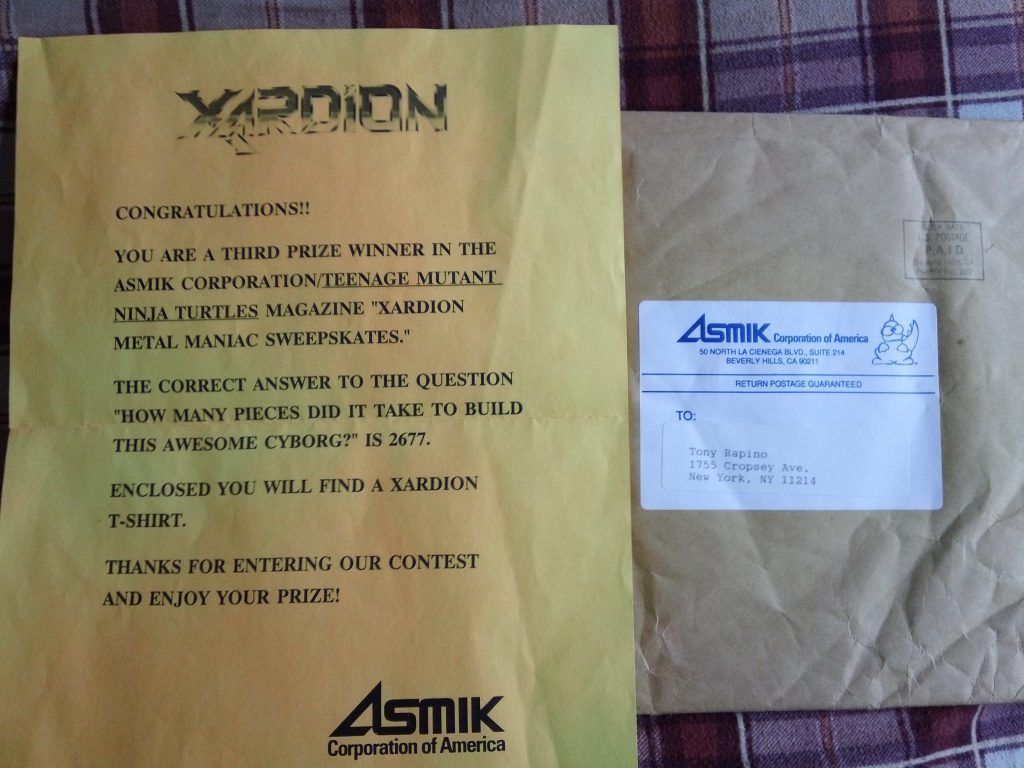 He read the letter and shook his head.  He handed me a fiver.  "You've got a problem, dude."
"Yeah," I replied.  "I have to figure out how to spend your five bucks!"
Footnote:  In preparation for this article, I did some minor research on Xardion, because honestly, I had no idea what the hell it was.  I'd apparently only entered the contest because it was through the Teenage Mutant Ninja Turtle Magazine.  What I found is that Xardion was a Super Nintendo game.  I of course had opted for the Sega Genesis, and so missed out on many SNES games.  It is one of my few regrets.